Job & Internship Vacancies
Career opportunity for Cognitive Psychologists or Economic & Consumer Psychologists! 
Would you like to be part of a UX-led company? With a growth of 1.311% in the last 3 years, BandenConcurrent has been awarded #1 fastest growing e-commerce business of The Netherlands by Ernst & Young and Thuiswinkel. And this is due to our user centric culture. Our goal is to make ordering and fitting tyres super easy and affordable. We do this by fitting tyres at home or at work through our state of the art mobile fitting vans. 
They are looking for a Conversion Optimization Specialist. We offer a great salary between EUR. 30k and EUR. 40k a year and nice perks. Are you interested? Please conatct neal@bandenconcurrent.nl.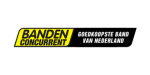 There are currently no other relevant job & internship vacancies to be found on our website, vacancies for master students can also be found on the website of the University. This website is kept up-to-date constantly! Other psychology related vacancies can be found on this site.