Job & Internship Vacancies
Intern Data Analysis - Human Insight
We are looking for a psychology intern who is interested in data analysis. Activities that could be considered are: improving and keeping statistic matters concerning our products up to date, analysing results and theory, digging into our large database and continuing interesting research from this (we have had previous publications, including in Harvard Business Review article). We also like to encourage entrepreneurship. Do you have a good idea? Then we are happy to support you!

If you are interested in an internship at Human Insight, please contact us (+31 (0)6 82759380, zstorni@human-insight.com) and let us discuss the possibilities.
Parttime jobs at JoHo
Various parttime jobs besides your studies at JoHo:
Become a JoHo Studentmanager, Author, Centercoach in the shop, Webdeveloper, Administrative Assistant, Summary Supporter ofr WorldSupporter Moderator.
Leave your contact info at the JoHo desk in the JoHo support center Leiden or in an email to info@joho.org.
Tutor Psychology at TentamenTrainingen.nl
Do you want to earn up to €50 per hour? Do you have good grades, do you want to help your fellow students and are you interested in teaching? Then we are looking for you! TentamenTrainingen.nl has a job opening for Tutor Psychology at Leiden University.
Interested? Click on this link to gather more information or to directly start your application.
Career opportunity for Cognitive Psychologists or Economic & Consumer Psychologists! 
Would you like to be part of a UX-led company? With a growth of 1.311% in the last 3 years, BandenConcurrent has been awarded #1 fastest growing e-commerce business of The Netherlands by Ernst & Young and Thuiswinkel. And this is due to our user centric culture. Our goal is to make ordering and fitting tyres super easy and affordable. We do this by fitting tyres at home or at work through our state of the art mobile fitting vans. 
They are looking for a Conversion Optimization Specialist. We offer a great salary between EUR. 30k and EUR. 40k a year and nice perks. Are you interested? Please conatct neal@bandenconcurrent.nl.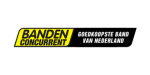 There are currently no other relevant job & internship vacancies to be found on our website, vacancies for master students can also be found on the website of the University. This website is kept up-to-date constantly! Other psychology related vacancies can be found on this site.